Scientific Name
Lissachatina fulica (Bowdich) (CABI)
Note: Achatina fulica was recently redesignated Lissachatina fulica, largely on the basis of Mead's (1961) observations (Naggs, 2002).
Common Name
Giant African snail (GAS), giant African land snail, kalutara snail
Synonym
Achatina fulica (Bowdich 1822), formerly Férussac 1821 (CABI)
Date of U.S. Introduction
First introduced to Hawaii in 1936; first introduced to the continental U.S. in 1966 (Thiengo et al. 2007)
Means of Introduction
Imported as pets and for educational purposes; may also arrive accidentally in cargo (Thiengo et al. 2007)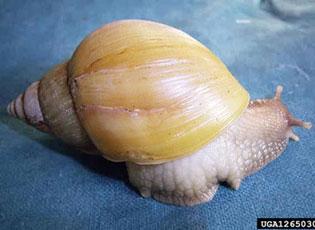 Spotlights
June 2022

Florida Department of Agriculture and Consumer Services.

The giant African land snail (Lissachatina fulica (Bowditch)) (GALS) is one of the most invasive pests on the planet, causing agricultural and environmental damage wherever it is found. This snail was twice established in southeastern Florida and was successfully eradicated both times. On June 21, 2022, FDACS-DPI recieved a report of a possible population of the snail in New Port Richey, Pasco County. On June 23, a survey of the property confirmed the presence of a white form of the giant African land snail, which is popular in the pet trade in other countries. This snail is a Federally prohibited organism that cannot be legally sold or possessed in the USA.

If you see a suspect GALS, take a picture, and contact the DPI Helpline at 1-888-397-1517 or DPIHelpline@fdacs.gov for instructions how to submit pictures and needed information. See also: Pests & Diseases - Giant African Land Snail for more information.

Oct 8, 2021

Florida Department of Agriculture and Consumer Services.

This week, Florida Agriculture Commissioner Nikki Fried and the Florida Department of Agriculture and Consumer Services (FDACS) Division of Plant Industry (DPI), along with the U.S. Department of Agriculture (USDA), announced the eradication of the giant African land snail (GALS) from Broward and Miami-Dade counties. This eradication announcement marks only the second time this pest has been eradicated in the world, both in South Florida. For the past 11 years, the FDACS Division of Plant Industry has worked toward eradication through multiple rounds of visual surveys and inspections, K-9 detector dog surveys and inspections, manual collection and treatment programs. In total, 168,538 snails were collected from 32 core population areas comprised of thousands of properties.

The giant African land snail is a highly invasive agricultural pest, known to feed on over 500 varieties of plants. They also pose a risk to humans and animals by carrying rat lung worm, a parasite that can cause meningitis in humans. Both the USDA and DPI will continue to remain vigilant in their commitments to safeguard American agriculture through surveys, early detection, and rapid response. The public should continue to watch for the snails and report suspects to the FDACS-DPI hotline at 1-888-397-1517.
Distribution / Maps / Survey Status
USDA. APHIS. Cooperative Agricultural Pest Survey. National Agricultural Pest Information System.
Quarantine
June 21, 2023

Smithsonian Institution. Smithsonian Magazine.

Officials issued a quarantine to control the invasive species, which devours vegetation, damages structures and can carry a parasite dangerous to humans. The invasive giant African land snail—one of the most damaging snails in the world—has returned to Florida for the third time in the state's history. Florida's Broward county giant African land snail quarantine prohibits people in the 3.5-square-mile area from moving the giant African land snails, and they also must not transport certain plants, soil, compost and yard debris that could contain snails or their eggs.
Federally Regulated
USDA. Animal and Plant Health Inspection Service.

See what states have a federal quarantine for any of the targeted Hungry Pests, and identify which pests or diseases are at greatest risk due to a suitable habitat. In addition to federal quarantines, state-level quarantines might apply see State Summaries of Plant Protection Laws and Regulations (National Plant Board).

See also: The Threat for an overview of the top invasive pest threats; indicates places with Federal Quarantines in place.
Selected Resources
The section below contains highly relevant resources for this species, organized by source.
Partnership
Federal Government

USDA. Animal and Plant Health Inspection Service.
International Government

Australian Centre for International Agricultural Research. PestNet.

Business Queensland (Australia).
State and Local Government

Michigan.gov. Michigan Invasive Species.

Florida Department of Agriculture and Consumer Services. Plant Industry.

Giant African land snails (GALS) could be devastating to Florida agriculture and natural areas because they cause extensive damage to tropical and subtropical environments. GALS are illegal to import into the U.S. without a permit. If you have seen one of these snails please contact the FDACS helpline (888) 397-1517.

Indiana Department of Natural Resources. Entomology and Plant Pathology.
Academic

University of Florida. Institute of Food and Agricultural Sciences Extension.

Electronic Data Information Source Publication #ENY-512

Columbia University. Center for Environmental Research and Conservation.
Professional

1961

Hawaiian Ecosystems at Risk.

Note: Complete text of the book by Albert R. Mead (1961. Albert R. Mead. The University of Chicago Press. Chicago. 257 pp.)