Scientific Name
Thaumatotibia leucotreta (Meyrick), formerly known as Cryptophlebia leucotreta (Gilligan et al. 2011)
Common Name
False codling moth (FCM), citrus codling moth
Date of U.S. Introduction
Not currently established; first detected outside of commercial shipments in California in 2008 (Gilligan et al. 2011)
Current U.S. Distribution
Not currently established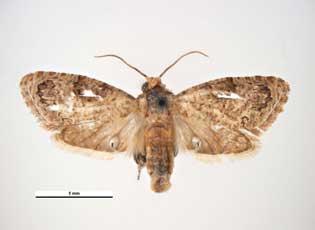 Distribution / Maps / Survey Status
USDA. APHIS. Cooperative Agricultural Pest Survey. National Agricultural Pest Information System.
Videos
Google. YouTube; South African Broadcasting Corporation. 50|50.

Special Note: Video is in Afrikaans with English subtitles.
Selected Resources
The section below contains highly relevant resources for this species, organized by source.
Partnership
Federal Government

Sep 2011

USDA. APHIS. Cooperative Agricultural Pest Survey.
International Government
State and Local Government

California Department of Food and Agriculture. Plant Health Division. Pest Detection/Emergency Projects Branch.
Academic
Professional
Citations
Carpenter, J., S. Bloem, and H. Hofmeyr. 2007. Area-wide control tactics for the false codling moth Thaumatotibia leucotreta in South Africa: a potential invasive species. In: M.J.B. Vreysen, A.S. Robinson, and J. Hendrichs, eds. Area-Wide Control of Insect Pests. Springer, Dordrecht.

Gilligan, T.M., M.E. Epstein, and K.M. Hoffman. 2011. Discovery of false codling moth, Thaumatotibia leucotreta (Meyrick), in California (Lepidoptera: Tortricidae). Proceedings of the Entomological Society of Washington 113(4):426-435.