Common Name
European grapevine moth (EGVM), grape berry moth
Date of U.S. Introduction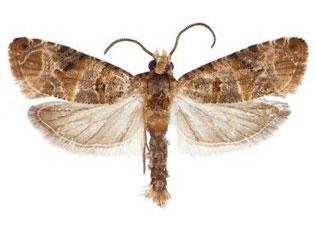 Spotlights
Mar 2019

Entomological Society of America. Entomology Today.

Invasive insect and arthropod species make for a lot of scary headlines—think emerald ash borer, spotted lanternfly, and Asian longhorned tick, just to name a few. But success stories in invasive-species response are out there. They just need to be told. One of those success stories is the eradication of the European grapevine moth (Lobesia botrana) in northern California after it was found there in 2009. A cooperative, multipronged response effort kept infestations from running wild, and it was declared eradicated in 2016, two years after the last adult moth was caught in the region. The story of this effort is recounted, along with analysis of the invasion's dynamics, in a study published in January in the Annals of the Entomological Society of America.

Nov 2, 2016

Key partners and contributors in Napa County, California, recently celebrated and recognized the critical safeguarding accomplishment achieved together, of eradicating the invasive European grapevine moth (EGVM) from the U.S. The keys to success were early detection, our rapid response, and a strong collaboration between federal, state and local officials, growers, university scientists and extension services. Such partnerships remain critical to our ability to safeguard agriculture and facilitate safe trade.

Napa County Agricultural Commissioner (California).

The European Grapevine Moth (EGVM) quarantine is officially lifted from Napa County and California! The United States Department of Agriculture (USDA) and the California Department of Agriculture (CDFA) announced the moth's eradication status on August 18, 2016.
Distribution / Maps / Survey Status
USDA. APHIS. Cooperative Agricultural Pest Survey. National Agricultural Pest Information System.
Federally Regulated
USDA. APHIS. Plant Protection and Quarantine.

USDA. APHIS. Plant Protection and Quarantine.

A Federal Order is a legal document issued in response to an emergency when the Administrator of APHIS considers it necessary to take regulatory action to protect agriculture or prevent the entry and establishment into the United States of a pest or disease. Federal Orders are effective immediately and contain the specific regulatory requirements.
Videos
Google. YouTube; California Department of Food and Agriculture.
Selected Resources
The section below contains highly relevant resources for this species, organized by source.
Partnership
Federal Government

USDA. Animal and Plant Health Inspection Service.

USDA. APHIS. Plant Protection and Quarantine.
International Government

Canadian Food Inspection Agency.
State and Local Government
Academic
Professional

Insecticide Resistance Action Committee.
Citations
Gilligan, T.M., M.E. Epstein, S.C. Passoa, J.A. Powell., O.C. Sage, and J.W. Brown. 2011. Discovery of Lobesia botrana ([Denis & Schiffermüller]) in California: an invasive species new to North America (Lepidoptera: Tortricidae) Proceedings of the Entomological Society of Washington 113(1):14-30.

Zalom, F.G., L.G. Varela, and M. Cooper. 2011. Insects & Other Arthropods: European Grapevine Moth, Lobesia botrana. University of California, Statewide Integrated Pest Management Program.