Scientific Name
Tomicus piniperda L. (CABI)
Common Name
Common Pine Shoot Beetle (PSB)
Date of U.S. Introduction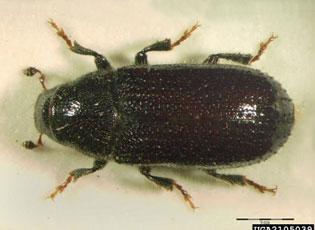 Spotlights
Sep 30, 2020

USDA. Animal and Plant Health Inspection Service.

The U.S. Department of Agriculture's Animal and Plant Health Inspection Service (APHIS) is publishing a final rule that removes the federal domestic quarantine regulation for the pine shoot beetle (PSB, Tomicus piniperda). Eliminating this regulation is in keeping with USDA's goal of reducing regulations that have outlived their usefulness. Removing the quarantine ends APHIS' domestic regulatory activities, which include actions such as issuing permits, certificates, and compliance agreements, making site visits, and conducting investigations of suspected violations. APHIS, in consultation with the National Plant Board, considers pine shoot beetle to be a minor pest that can be controlled locally, given its slow spread and the minimal damage it causes.

The final rule will be effective 30 days after publication in the Federal Register on October 1, 2020 or on Nov. 2, 2020. Documents may be viewed online at https://www.regulations.gov/document/APHIS-2016-0065-0001 upon publication.
Selected Resources
The section below contains highly relevant resources for this species, organized by source.
Partnership
International Government

Natural Resources Canada. Canadian Forest Service.
State and Local Government

Minnesota Department of Agriculture.

Missouri Department of Agriculture.
Academic

IPM of Midwest Landscapes is available for educating growers, landscapers, managers, and consumers in the principles of IPM and its application to managing the over 150 common insect species in Midwest landscapes.

University of Florida. Institute of Food and Agricultural Sciences Extension.

Electronic Data Information Source Publication #EENY321

Pennsylvania State University. Cooperative Extension.
Professional

Invasive Species Centre (Ontario).