Scientific Name
Oryctes rhinoceros (Linnaeus) (CABI)
Common Name
Coconut rhinoceros beetle (CRB), Asiatic rhinoceros beetle
Date of U.S. Introduction
Means of Introduction
Most likely arrived on construction material imported from Asia (USDA 2008)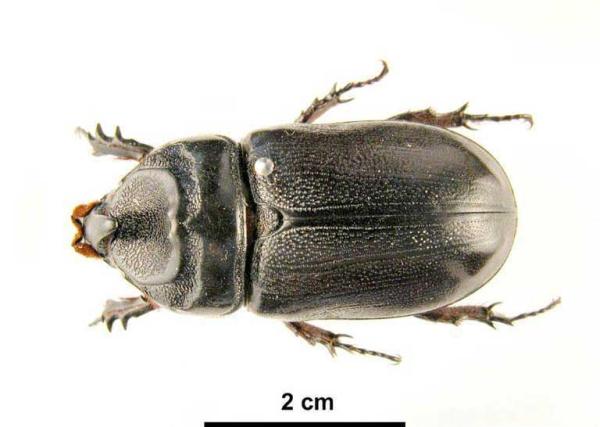 Spotlights
Sep 29, 2021

DOI. Office of Insular Affairs.

The U.S. Department of the Interior's Office of Insular Affairs (OIA) has announced $2,772,443 in Coral Reef and Natural Resources Initiative (CRNR) grant funds to protect coral reef resources in the U.S. territories and the freely associated states. The funding includes $1,541,421 that will support efforts to control and eradicate invasive species in the insular areas. Grants for fiscal year 2021 to combat invasive species have been awarded as follows:

University of Guam for research and related efforts to counter the Coconut Rhinoceros Beetle - $866,423
Micronesia Conservation Trust, a regional non-governmental organization, for the eradication, control, and management of invasive species in Kosrae, Chuuk, and Yap - $300,000
Island Conservation, a non-profit organization, for the removal of invasive rats in Mili Atoll, Marshall Islands - $299,838
Commonwealth of the Northern Mariana Islands Government for Sabana Pandanus Forest control and native trees restoration project - $75,160

Oct 2017

Secretariat of the Pacific Community.

Recently, the health of coconut palms has come under severe threat. The Pacific Community (SPC), working with Pacific Island countries and territories, and development partners, is looking for ways to meet this threat before it devastates the hopes of economic progress in the region. In August of 2017 an alert was issued identifying a new danger to the Pacific, which is causing devastation to coconut palms and expanding rapidly across the region. The new threat comes from a longstanding adversary in the region: the rhinoceros beetle.
Distribution / Maps / Survey Status
USDA. APHIS. Cooperative Agricultural Pest Survey. National Agricultural Pest Information System.
Selected Resources
The section below contains highly relevant resources for this species, organized by source.
Council or Task Force

Oahu Invasive Species Committee.

Hawaii Invasive Species Council.
Partnership
Federal Government

USDA. Animal and Plant Health Inspection Service.

USDA. APHIS. Plant Protection and Quarantine.
International Government

Aug 2017

Secretariat of the Pacific Community.

Solomon Islands Ministry of Agriculture and Livestock.

Australian Centre for International Agricultural Research. PestNet.
State and Local Government

Hawaii Department of Agriculture.
Academic

University of Guam. Western Pacific Tropical Research Center.