Scientific Name
Scirtothrips dorsalis Hood, 1919 (ITIS)
Common Name
Chilli thrips, yellow tea thrips, castor thrips, Assam thrips, strawberry thrips, oriental tea thrips
Date of U.S. Introduction
Impact
Attacks and causes significant damage to over 100 vegetable, ornamental, and fruit crops, particularly peppers, eggplant, and tomatoes (Nietschke et al. 2008)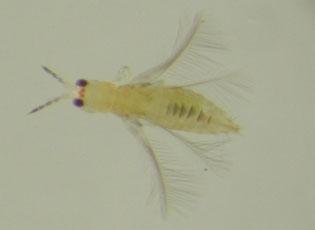 Distribution / Maps / Survey Status
USDA. APHIS. Cooperative Agricultural Pest Survey. National Agricultural Pest Information System.
Selected Resources
The section below contains highly relevant resources for this species, organized by source.
Partnership
State and Local Government

Oct 2005

Florida Department of Agriculture & Consumer Services. Division of Plant Industry.
Academic

University of Florida. Institute of Food and Agricultural Sciences Extension.

Electronic Data Information Source Publication #ENY463

University of Massachusetts Extension. Landscape, Nursery, and Urban Forestry Program.

University of California. Agriculture and Natural Resources.