Scientific Name
Anoplophora glabripennis (Motschulsky, 1853) (ITIS)
Common Name
Asian long-horned beetle (ALB), starry sky beetle
Date of U.S. Introduction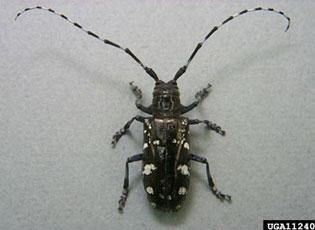 Distribution / Maps / Survey Status
Videos
Google. YouTube; USDA. Animal and Plant Health Inspection Service.

Google. YouTube; United States Department of Agriculture.

Google. YouTube; University of Massachusetts - Amherst. 
Selected Resources
The section below contains highly relevant resources for this species, organized by source.
Council or Task Force

Washington State Recreation and Conservation Office. Washington Invasive Species Council.
Partnership
Federal Government
International Government

Natural Resources Canada. Canadian Forest Service.

Canadian Food Inspection Agency.
State and Local Government
Academic
Professional

Morton Arboretum (Illinois).
Citations
Haack, R.A., F. Herard, J. Sun, and J.J. Turgeon. 2010. Managing invasive populations of Asian longhorned beetle and citrus longhorned beetle: a worldwide perspective. Annual Review of Entomology 55:521-546.

Hu, J., S. Angeli, S. Schuetz, Y. Luo, and A.E. Hajek. 2009. Ecology and management of exotic and endemic Asian longhorned beetle Anoplophora glabripennis. Agricultural and Forest Entomology 11(4):359-375.

Integrated Taxonomic Information System. Anoplophora glabripennis. [Accessed Mar 12, 2023].