Scientific Name
Eichhornia crassipes (Mart.) Solms (ITIS)
Common Name
Common water-hyacinth, floating water hyacinth
Date of U.S. Introduction
Impact
Forms dense colonies that block sunlight and crowd out native species (Toft et al. 2003)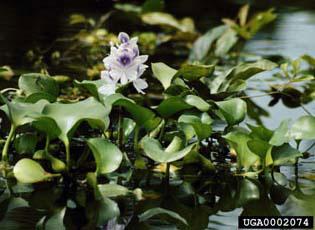 Distribution / Maps / Survey Status
University of Georgia. Center for Invasive Species and Ecosystem Health.

Provides state, county, point and GIS data. Maps can be downloaded and shared.

DOI. USGS. Wetland and Aquatic Research Center.

Provides detailed collection information as well as animated map.
Videos
Google. YouTube; University of Florida. IFAS. Center for Aquatic and Invasive Plants.
Selected Resources
The section below contains highly relevant resources for this species, organized by source.
Council or Task Force

Southeast Exotic Pest Plant Council.
Partnership
Federal Government
International Government

New South Wales Department of Primary Industries (Australia).

Business Queensland (Australia).
State and Local Government

Nov 2017

Rhode Island Department of Environmental Management. Office of Water Resources.

Wisconsin Department of Natural Resources.

Florida Fish and Wildlife Conservation Commission.
Academic

Texas A&M University. AgriLife Extension Service. Department of Wildlife and Fisheries Sciences.

Columbia University. Center for Environmental Research and Conservation.

University of Florida. IFAS. Center for Aquatic and Invasive Plants.
Professional

2022

North American Invasive Species Management Association.
Citations
Integrated Taxonomic Information System. Eichhornia crassipes. [Accessed Sep 28, 2023].

Toft, J.D., C.A Simenstad, J.R. Cordell, and L.F. Grimaldo. 2003. The effects of introduced water hyacinth on habitat structure, invertebrate assemblages, and fish diets. Estuaries 26(3):746-758.

Zhang, Y., D. Zhang, and S.C. Barrett. 2010. Genetic uniformity characterizes the invasive spread of water hyacinth (Eichhornia crassipes), a clonal aquatic plant. Molecular Ecology 19(9):1774-1786.