Scientific Name
Melaleuca quinquenervia (Cav.) S. T. Blake (ITIS)
Common Name
Melaleuca, punktree, naiouli, cajeput tree, paper bark, broadleaf paper bark, broadleaf teatree, paperbark teatree, bottlebrush tree
Date of U.S. Introduction
Impact
Degrades wetlands in several ways, including altering fire regimes, water table depth, vertical structure of plant communities, recruitment of native species, and light availability (Center et al. 2012)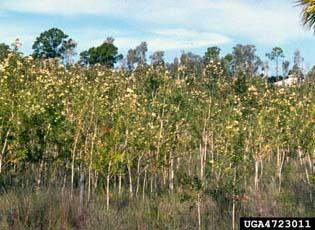 Spotlights
Dec 16, 2021

USDA. Animal and Plant Health Inspection Service.

The U.S. Department of Agriculture, Animal and Plant Health Inspection Service (APHIS) has prepared an environmental assessment (EA) to issue permits for the release of the insect Lophodiplosis indentata (Diptera: Cecidomyiidae) to biologically control Melaleuca quinquenervia (Myrtaceae) in the continental United States. Based on the environmental assessment and other relevant data, APHIS has reached a preliminary determination that the release of this control agent within the continental United States will not have a significant impact on the environment.

The proposed action is intended to reduce the severity of environmental damage to wetlands from the invasive Melaleuca tree in the continental United States. Melaleuca is native to Australia, New Caledonia, and Papua New Guinea and was imported into Florida in the late 19th century. It has since established in Florida's wetlands, dramatically disrupting normal water, fire, disturbance recovery, and nutrient cycles—as well as impacting the amount of light available to other plants. APHIS is making the environmental assessment available to the public for review and comment. All comments received on or before Jan. 16, 2022 will be considered. To review the environmental assessment and make comments: Go to www.regulations.gov and enter APHIS-2021-0049 in the Search field.
Distribution / Maps / Survey Status
University of Georgia. Center for Invasive Species and Ecosystem Health.

Provides state, county, point and GIS data. Maps can be downloaded and shared.
Federally Regulated
USDA. APHIS. Plant Protection and Quarantine.

Includes species listed as a Federal Noxious Weed under the Plant Protection Act, which makes it illegal in the U.S. to import or transport between States without a permit.
Videos
Google. YouTube; University of Florida. IFAS. Lee County Extension.
Selected Resources
The section below contains highly relevant resources for this species, organized by source.
Partnership
Federal Government
State and Local Government

Florida Department of Agriculture and Consumer Services. Division of Plant Industry.

Florida Fish and Wildlife Conservation Commission.
Academic

University of Florida. Institute of Food and Agricultural Sciences Extension.

Electronic Data Information Source - publication resources

Columbia University. Center for Environmental Research and Conservation.

University of Florida. IFAS. Center for Aquatic and Invasive Plants.
Professional

2022

North American Invasive Species Management Association.
Citations
Center, T.D., M.F. Purcell, P.D. Pratt, et al. 2012. Biological control of Melaleuca quinquenervia: an Everglades invader. BioControl 57:151–165.

Integrated Taxonomic Information System. Melaleuca quinquenervia. [Accessed Sep 19, 2023].

Turner, C., T. Center, D. Burrows, et al. 1997. Ecology and management of Melaleuca quinquenervia, an invader of wetlands in Florida, U.S.A. Wetlands Ecology and Management 5:165–178.