Scientific Name
Hydrilla verticillata (L. f.) Royle (ITIS)
Common Name
Hydrilla, Florida elodea, water thyme, Indian star-vine
Date of U.S. Introduction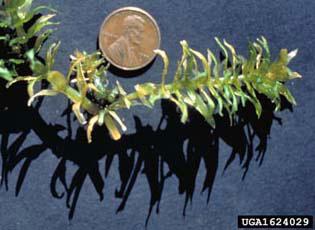 Spotlights
Jan 9, 2020

DOD. USACE. Buffalo District.

The U.S. Army Corps of Engineers Buffalo District is on a mission to fight hydrilla, an aggressive plant species that has wreaked havoc from Asia to every continent except Antarctica. "Hydrilla completely chokes out our waterways and impacts all the things we enjoy," said Michael Greer, USACE Buffalo District project manager." It affects water quality, the economy, businesses, hydropower and flood reduction - ultimately our health and our wallets." Buffalo District's main projects to eradicate hydrilla are at the Erie Canal and Tonawanda Creek, Tonawanda, NY, as well as on Cayuga Lake near Aurora, NY and Ithaca, NY. The District provides assistance on Pymatuning Lake which borders Pennsylvania and Ohio, and at Raystown Lake in south central Pennsylvania. Buffalo District is also lending expertise to a project on the Connecticut River. Funding for the project is available through the Corps of Engineers Aquatic Plant Control Research Program and Great Lakes Restoration Initiative.
Distribution / Maps / Survey Status
University of Georgia. Center for Invasive Species and Ecosystem Health.

Provides state, county, point and GIS data. Maps can be downloaded and shared.

DOI. USGS. Wetland and Aquatic Research Center.

Provides detailed collection information as well as animated map.

USDA. APHIS. Cooperative Agricultural Pest Survey. National Agricultural Pest Information System.
Federally Regulated
USDA. APHIS. Plant Protection and Quarantine.

Includes species listed as a Federal Noxious Weed under the Plant Protection Act, which makes it illegal in the U.S. to import or transport between States without a permit.
Videos
Google. YouTube; University of Florida. IFAS. Center for Aquatic and Invasive Plants.

Google. YouTube; Cornell University. Naturalist Outreach.
Selected Resources
The section below contains highly relevant resources for this species, organized by source.
Council or Task Force
Partnership
Federal Government
State and Local Government
Academic
Professional

2022

North American Invasive Species Management Association.

Colorado Weed Management Association.
Citations
Balciunas, J.K., M. J. Grodowitz, A.F. Cofrancesco and J.F. Shearer. 2002. Hydrilla. In: R. Van Driesche et al. (Eds.), Biological control of invasive plants in the eastern United States (FHTET-2002-04). Morgantown, West Virginia: U.S. Forest Service Forest Health Technology Enterprise Team.

Integrated Taxonomic Information System. Hydrilla verticillata. [Accessed Sep 10, 2014].