Scientific Name
Salvinia molesta D. S. Mitch. (ITIS)
Common Name
Giant salvinia, kariba-weed
Date of U.S. Introduction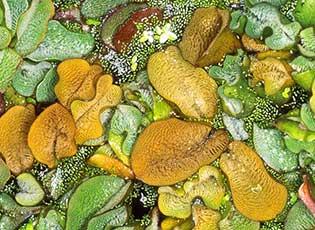 Spotlights
Aug 12, 2019

In parts of the South, there are stories about an invasive floating weed, which forms such a dense mass that it enables small animals to walk across water. This weed, called giant salvinia, is an exotic fern from South America that invades ponds, lakes, and other waterways in the United States. It damages aquatic ecosystems by outgrowing and replacing native plants that provide food and habitat for native animals and waterfowl.

Agricultural Research Service (ARS) scientists are testing a naturally occurring fungus (Myrothecium spp.) against giant salvinia to help control it. Initial tests have found that the fungus stops this problematic weed from growing and even can kill it.
Distribution / Maps / Survey Status
University of Georgia. Center for Invasive Species and Ecosystem Health.

Provides state, county, point and GIS data. Maps can be downloaded and shared.

DOI. USGS. Wetland and Aquatic Research Center.

Provides detailed collection information as well as animated map.

USDA. APHIS. Cooperative Agricultural Pest Survey. National Agricultural Pest Information System.
Federally Regulated
USDA. APHIS. Plant Protection and Quarantine.

Includes species listed as a Federal Noxious Weed under the Plant Protection Act, which makes it illegal in the U.S. to import or transport between States without a permit.
Selected Resources
The section below contains highly relevant resources for this species, organized by source.
Partnership
Federal Government

DOI. USGS. Wetland and Aquatic Research Center.

Provides distribution maps and collection information (State and County).

USDA. NRCS. National Plant Data Center.

USDA. ARS. National Genetic Resources Program. GRIN-Global.
International Government

New South Wales Department of Primary Industries (Australia).

Business Queensland (Australia).
State and Local Government
Academic

2013

University of California. Weed Research and Information Center.

Texas A&M University. AgriLife Extension Service. Department of Wildlife and Fisheries Sciences.

University of Florida. IFAS. Center for Aquatic and Invasive Plants.
Professional

Colorado Weed Management Association.