Date of U.S. Introduction
Impact
Crowds out native plants species; reduces wildlife habitat; contributes to higher fire frequency and intensity; and modifies river hydrology (Giessow et al. 2011)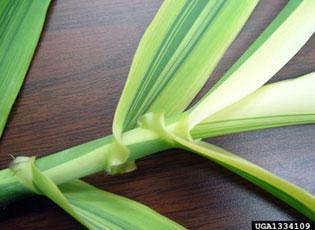 Spotlights
Oct 2016

USDA. Agricultural Research Service.

Along the Rio Grande in Texas, tiny insects are taking a big bite out of an invasive weed that competes for limited water resources vital to agriculture and native vegetation. Several years ago, ARS scientists released two insect species as part of a biocontrol program to kill giant reed (Arundo donax).
Distribution / Maps / Survey Status
University of Georgia. Center for Invasive Species and Ecosystem Health.

Provides state, county, point and GIS data. Maps can be downloaded and shared.
Selected Resources
The section below contains highly relevant resources for this species, organized by source.
Council or Task Force
Partnership
Federal Government

USDA. FS. Rocky Mountain Research Station. Fire Sciences Laboratory.

USDA. NRCS. National Plant Data Center.

USDA. ARS. National Genetic Resources Program. GRIN-Global.
International Government

Business Queensland (Australia).

Canadian Food Inspection Agency.
State and Local Government

Texas Parks and Wildlife.

Colorado Department of Agriculture. Conservation Services Division. Noxious Weed Program.
Academic
Professional

2022

North American Invasive Species Management Association.
Citations
Giessow, J., J. Casanova, R. Leclerc, R. MacArthur, G. Fleming, J. Giessow (Else). 2011. Arundo donax (giant reed): Distribution and Impact Report. Prepared by the California Invasive Plant Council for the State Water Resources Control Board. Agreement No. 06-374-559-0.

Integrated Taxonomic Information System. Arundo donax. [Accessed Sep 16, 2023].

Mariani, C., R. Cabrini, A. Danin, P. Piffanelli, A. Fricano, S. Gomarasca, M. Dicandilo, F. Grassi, and C. Soave. 2010. Origin, diffusion and reproduction of the giant reed (Arundo donax L.): a promising weedy energy crop. Annals of Applied Biology 157:191-202.

Polunin, O. and A. Huxley. 1987. Flowers of the Mediterranean. London: Hogarth Press.