Scientific Name
Myriophyllum spicatum L. (ITIS)
Common Name
Eurasian watermilfoil, spiked watermilfoil
Date of U.S. Introduction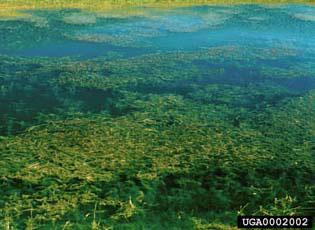 Spotlights
Feb 22, 2021

Deceptively delicate and fragile in appearance, the Eurasian watermilfoil forms thick mats in shallow areas of a lake, quickly growing and spreading to block sunlight, killing off native aquatic plants that fish and other underwater species rely on for food and shelter. In North America, the plant threatens the diversity and abundance of native plants as well as the ecological balance of lakes and ponds, which in turn adversely affects recreational opportunities. If left unchecked, invasive watermilfoil will spread through a lake, or even to other lakes by transmission. An expert team of USDA Forest Service divers with invasive species and aquatics expertise is focused on rooting out the plant.
Distribution / Maps / Survey Status
University of Georgia. Center for Invasive Species and Ecosystem Health.

Provides state, county, point and GIS data. Maps can be downloaded and shared.

DOI. USGS. Wetland and Aquatic Research Center.

Provides detailed collection information as well as animated map.
Videos
Google. YouTube; Wildlife Forever.

Google. YouTube; Ontario Federation of Anglers and Hunters (Canada). Ontario's Invading Species Awareness Program.
Selected Resources
The section below contains highly relevant resources for this species, organized by source.
Council or Task Force
Partnership
Federal Government
International Government

New South Wales Department of Primary Industries (Australia).

Business Queensland (Australia).
State and Local Government
Academic
Professional

Colorado Weed Management Association.

Montana Weed Control Association.