Scientific Name
Phragmites australis (Cav.) Trin. ex Steud. (ITIS)
Date of U.S. Introduction
Invasive European strains probably introduced during the 1800s (Saltonstall 2002)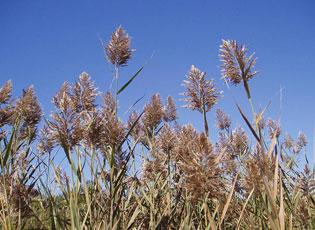 Spotlights
Apr 6, 2022

Louisiana State University.

The Mississippi River Delta is home to the world's largest contiguous swath of Phragmites australis, or more commonly known as the common reed. But the plant that can grow to nearly 20 ft. and has been a critical component in stabilizing the state's coastal erosion is not actually native to Louisiana—well, not entirely. There are multiple P. australis genotypes. P. australis subspecies (ssp.) americanus is the native subspecies in the U.S. and Canada. However, Phragmites australis ssp. australis originated in central Europe and was subsequently introduced to the U.S. where it is now considered to be one of the most problematic invasive species in North America. In a newly published study in Molecular Ecology and recently featured in an edition of The Scientist, LSU researchers collaborated with Tulane University and the U.S. Geological Survey to study the genomic bases of P. australis and to investigate what exactly makes the invasive reed grass subspecies thrive in wetlands, in comparison to its native counterpart.

The Great Lakes Phragmites Collaborative is a network of agencies, organizations and citizens who are engaged in Phragmites in some way, including management, research and communication. The Collaborative was established to facilitate communication among stakeholders across the region and serve as a resource center for information on Phragmites biology, management, and research.

See also: Phragmites Adaptive Management Framework (PAMF) Strategic Plan (2020-2026). This strategic plan will guide successful implementation of PAMF by setting program-specific goals, objectives, and measures for the next five years. The PAMF core science team that developed the plan includes representatives from the Great Lakes Commission, U.S. Geological Survey, and University of Georgia.
Distribution / Maps / Survey Status
University of Georgia. Center for Invasive Species and Ecosystem Health.

Provides state, county, point and GIS data. Maps can be downloaded and shared.

DOI. USGS. Wetland and Aquatic Research Center.

Provides detailed collection information as well as animated map.
Videos
Google. YouTube; Nature Conservancy.

Google. YouTube; Southeast Michigan Council of Governments.
Selected Resources
The section below contains highly relevant resources for this species, organized by source.
Council or Task Force

Apr 2016

Alberta Invasive Species Council (Canada).

See also: Fact Sheets for more information about individual invasive species, including those listed as "Prohibited Noxious" and "Noxious" under the Alberta Weed Control Act

Ohio Invasive Plants Council.

Washington State Recreation and Conservation Office. Washington Invasive Species Council.
Partnership
Federal Government
State and Local Government
Academic