Scientific Name
Caulerpa taxifolia (Vahl) C. Agandh (ITIS; name is accepted but unverified)
Common Name
Caulerpa, Mediterranean clone; Killer algae
Date of U.S. Introduction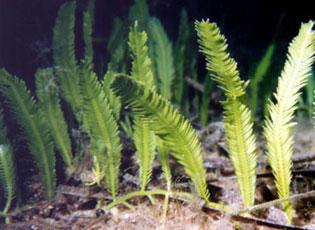 Distribution / Maps / Survey Status
University of Georgia. Center for Invasive Species and Ecosystem Health.

Provides state, county, point and GIS data. Maps can be downloaded and shared.
Federally Regulated
USDA. APHIS. Plant Protection and Quarantine.

Includes species listed as a Federal Noxious Weed under the Plant Protection Act, which makes it illegal in the U.S. to import or transport between States without a permit.
Selected Resources
The section below contains highly relevant resources for this species, organized by source.
Council or Task Force

Washington State Recreation and Conservation Office. Washington Invasive Species Council.
Partnership
Federal Government

DOC. NOAA. National Marine Fisheries Service. West Coast Region.

Smithsonian Institution. Smithsonian Environmental Research Center. Marine Invasions Research Lab.

USDA. NRCS. National Plant Data Center.
International Government

Jun 2004

New South Wales Department of Primary Industries (Australia).
Academic
Professional
Citations
Diaz, S., J.R. Smith, S.F. Zaleski, et al. 2012. Effectiveness of the California state ban on the sale of Caulerpa species in aquarium retail stores in southern California. Environmental Management 50:89–96.

Integrated Taxonomic Information System. Caulerpa taxifolia. [Accessed Feb 28, 2015].

Jousson, O., J. Pawlowski, L. Zaninetti, A. Meinesz, and C.F. Boudouresque. 1998. Molecular evidence for the aquarium origin of the green alga Caulerpa taxifolia introduced to the Mediterranean Sea. Marine Ecology Progress Series 172:275-280.

Meusnier, I., J.L. Olsen, W.T. Stam, C. Destombe, M. Valero. 2001. Phylogenetic analyses of Caulerpa taxifolia (Chlorophyta) and of its associated bacterial microflora provide clues to the origin of the Mediterranean introduction. Molecular Ecology 10(4):931-946.

Woodfield, R. 2008. Noxious Seaweed Found in Southern California Coastal Waters. NOAA National Marine Fisheries Service Southwest Regional Office.