Scientific Name
Myxobolus cerebralis (CABI)
Date of U.S. Introduction
Current U.S. Distribution
Western U.S.; Northeastern U.S.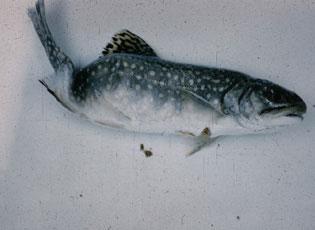 Videos
Google. YouTube; North American Fishing Club.
Selected Resources
The section below contains highly relevant resources for this species, organized by source.
Council or Task Force

Apr 2019

Alberta Invasive Species Council (Canada).

See also: Fact Sheets for more information about individual invasive species, including those listed as "Prohibited Noxious" and "Noxious" under the Alberta Weed Control Act

Feb 2009

Oregon Invasive Species Council.

Aquatic Nuisance Species Task Force. Stop Aquatic Hitchhikers.
Partnership
Federal Government

DOI. NPS. Yellowstone National Park.

Smithsonian Institution. Smithsonian Environmental Research Center. Marine Invasions Research Lab.
International Government

2020

Australian Government. Department of Agriculture, Fisheries and Forestry.

Canadian Food Inspection Agency.
State and Local Government
Academic

Columbia University. Center for Environmental Research and Conservation.