Common Name
Viral hemorrhagic septicemia virus (VHS), Egtved virus
Date of U.S. Introduction
First isolated in the Great Lakes in 2005; had most likely been present for several years (Bain et al. 2010)
Impact
Viral disease of fish that infects a wide range of species and can cause large fish kills (Bain et al. 2010)
Current U.S. Distribution
Great Lakes and St. Lawrence River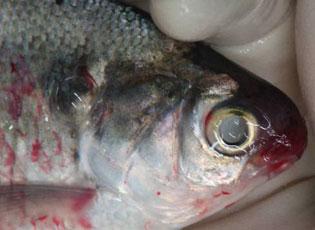 Videos
Google. YouTube; University of Minnesota. 
Selected Resources
The section below contains highly relevant resources for this species, organized by source.
Council or Task Force

Washington State Recreation and Conservation Office. Washington Invasive Species Council.
Partnership
Federal Government

2008

DOI. United States Geological Survey.

USDA. Animal and Plant Health Inspection Service.

DOI. National Park Service.
International Government

2020

Australian Government. Department of Agriculture, Fisheries and Forestry.

Canadian Food Inspection Agency.

Ontario Ministry of Northern Development, Mines, Natural Resources and Forestry (Canada).
State and Local Government
Academic
Professional

Jun 2002

Great Lakes Fishery Commission.