Scientific Name
Orconectes rusticus (Girard, 1852) (ITIS)
Date of U.S. Introduction
Current U.S. Distribution
Great Lakes Region, New England, and Eastern U.S.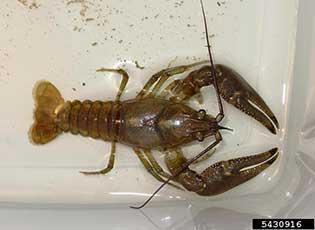 Spotlights
May 19, 2021

Wyoming Game & Fish Department.

Anglers, crayfish trappers, and other outdoor recreationists are asked to help the Wyoming Game and Fish Department protect our outstanding fisheries by reporting any rusty crayfish found in the Laramie River watershed. Rusty crayfish (Orconectes rusticus) are native to the Ohio River Basin, but have invaded many other states and Canadian provinces. They were first discovered in Wyoming in 2006 after being illegally introduced into private ponds and then escaping into Wagonhound Creek, a tributary of the North Platte River. Despite the Game and Fish Department's early eradication efforts, the species has recently been found in the Laramie River as a result of another illegal introduction.

Rusty crayfish are 3-5 inches long, with a grayish-green body and easily-identifiable reddish fingerprint-like spots on each side of the body just in front of the tail. If you find a rusty crayfish, or catch one in a trap, take a photo of it and either return it to the water or kill it. Then contact the Laramie Game and Fish Department at (307) 745-4046 or reportais@wyo.gov.

Jul 21, 2021

Kansas Department of Wildlife & Parks.

Widespread sampling for invasive crayfish had never occurred in Kansas lakes – that is, until the Kansas Department of Wildlife and Parks (KDWP) recently funded a university project focused on the freshwater crustacean. KDWP's Aquatic Nuisance Species Program and Ecological Services section funded the project with the overarching goal of establishing sampling protocols that could then be used for long-term monitoring of both native and invasive crayfish in Kansas. During capturing efforts at McPherson State Fishing Lake – one of several small waterbodies slated to be inspected in the state – university researchers collected multiple Rusty Crayfish. Rusty Crayfish have not previously been documented in the wild in Kansas, making this official "discovery" the first of its kind.

Anglers, boaters and watersport enthusiasts are encouraged to keep their eyes open for this invasive species, which can be identified by its trademark large, black-tipped claws and rust-colored spots on its upper shell. If one is discovered, freeze it in a sealed plastic bag, note the date and location of capture, and contact KDWP's Emporia Research and Survey Office at (620) 342-0658.

Invasive Crayfish Collaborative.

The Invasive Crayfish Collaborative includes representatives of Great Lakes local, state and federal natural resource agencies, universities, non-governmental organizations (NGOs), and private businesses. These experts and stakeholders are working towards the region's collective ability to manage and control invasive crayfish.
Distribution / Maps / Survey Status
DOI. USGS. Wetland and Aquatic Research Center.

Provides detailed collection information as well as animated map.
Videos
Google. YouTube; University of Wisconsin-Madison. Center for Limnology.
Selected Resources
The section below contains highly relevant resources for this species, organized by source.
Council or Task Force

Washington State Recreation and Conservation Office. Washington Invasive Species Council.
Partnership
Federal Government

DOI. NPS. Saint Croix National Scenic Riverway.

Smithsonian Institution. Smithsonian Environmental Research Center. Marine Invasions Research Lab.

DOI. USGS. Wetland and Aquatic Research Center.

Provides distribution maps and collection information (State and County).
International Government

2010

Fisheries and Oceans Canada. Central and Arctic Region.

Canadian Manuscript Report of Fisheries and Aquatic Sciences 2923.
State and Local Government
Academic
Professional

Invasive Species Centre (Ontario).

Tip of the Mitt Watershed Council (Michigan).