Scientific Name
Dikerogammarus villosus (Sowinsky, 1894) (CABI)
Date of U.S. Introduction
Means of Introduction
Could enter the U.S. through ballast water discharge (NAS Database)
Impact
In Europe, killer shrimp populations have caused significant ecological disruption by reducing biodiversity (NAS Database)
Current U.S. Distribution
Not currently established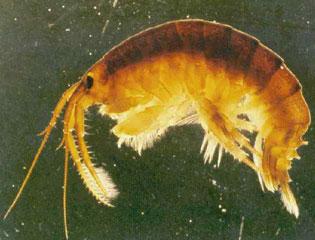 Selected Resources
The section below contains highly relevant resources for this species, organized by source.
Partnership
Federal Government
State and Local Government

Michigan.gov. Michigan Invasive Species Program.
Professional

Tip of the Mitt Watershed Council (Michigan).

Invasive Species Centre (Ontario).
Citations
CABI. Invasive Species Compendium. Dikerogammarus villosus. CAB International. [Accessed Aug 10, 2023].

Great Lakes Aquatic Nonindigenous Species Information System and Nonindigenous Aquatic Species Database. Fact Sheet - Killer Shrimp. USGS, Gainesville, FL. [Accessed Aug 10, 2023].