Scientific Name
Limnoperna fortunei (Dunker, 1857) (CABI)
Native To
China and Southeastern Asia
Date of U.S. Introduction
Current U.S. Distribution
Not currently established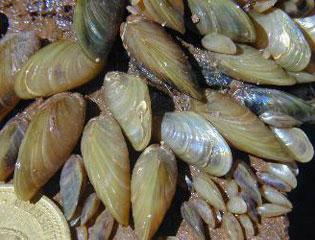 Selected Resources
The section below contains highly relevant resources for this species, organized by source.
Council or Task Force

Feb 2018

Alberta Invasive Species Council (Canada).

See also: Fact Sheets for more information about individual invasive species, including those listed as "Prohibited Noxious" and "Noxious" under the Alberta Weed Control Act
Partnership
Federal Government
State and Local Government

Michigan.gov. Michigan Invasive Species Program.
Academic

University of California. Agriculture and Natural Resources. California Aquatic Invasive Species.

University of Wisconsin Sea Grant.
Professional

Tip of the Mitt Watershed Council (Michigan).
Citations
CABI. Invasive Species Compendium. Limnoperna fortunei. CAB International. [Accessed Aug 10, 2023].

Global Invasive Species Database. 2005. Limnoperna fortunei (mollusc). Invasive Species Specialist Group (ISSG) of the IUCN Species Survival Commission.