Scientific Name
Carcinus maenas (Linnaeus, 1758) (ITIS)
Common Name
European green crab, shore crab, Joe rocker
Date of U.S. Introduction
Impact
Severely impacts native bivalve and crustacean populations through predation and competition (See and Feist 2010)
Current U.S. Distribution
North Atlantic coast; Pacific Coast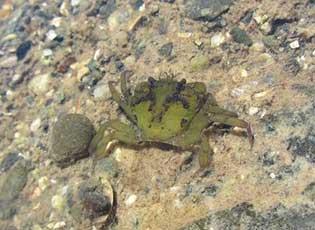 Spotlights
Jan 19, 2022

Office of the Governor (Washington).

Washington Governor Jay Inslee has issued an emergency order (PDF| 174 KB) to address the exponential increase in the European green crab population within the Lummi Nation's Sea Pond and outer coast areas. The European green crab is a globally-damaging invasive species that, if they become permanently established, will particularly harm endangered species, impact resources that are part of the cultural identity of the tribes and native peoples, and affect small businesses.

Mar 3, 2022

DOI. United States Geological Survey.

European green crabs are one of the most widespread invasive marine species on the planet, originally reaching Washington in 1996. When green crab populations grow too large, they compete with other shellfish, disturb the sediment, and destroy the eelgrass that is an important habitat for Dungeness crab and salmon. The U.S. Geological Survey (USGS) is working to increase the effectiveness of Washington's green crab early detection and rapid response program. Research conducted at the USGS' Western Fisheries Research Center aims to improve native shellfish habitat and limit the spread of European green crabs in coastal waters.

Oct 6, 2021

National Science Foundation.

The green crab, Carcinus maenas, is a widely distributed invasive species that eventually alters its new environment. It's assumed that such species have high genetic diversity, or a variety of characteristics allowing them to adapt and thrive. But the green crab has low genetic diversity, while still spreading rapidly in a new part of the world. A U.S. National Science Foundation-funded study led by Carolyn Tepolot of the Woods Hole Oceanographic Institution is investigating the adaptive mechanisms of the green crab along the west coast of North America, where it has shown extensive dispersal in the last decade despite minimal genetic diversity. The results are published in Molecular Ecology. The project is a collaboration among scientists at WHOI, Portland State University, the Smithsonian Environmental Research Center and the University of California, Davis.
Videos
Google. YouTube; EarthFix Media.

Google. YouTube; Fisheries and Oceans Canada.
Selected Resources
The section below contains highly relevant resources for this species, organized by source.
Council or Task Force

Nova Scotia Invasive Species Council (Canada).

Washington State Recreation and Conservation Office. Washington Invasive Species Council.
Partnership
Federal Government

The green crab is considered one of the most invasive species in the marine environment. It has few predators, aggressively hunts and eats its prey, destroys seagrass, and outcompetes local species for food and habitat. Green crab could potentially damage Alaska's multi-billion dollar fisheries industries, especially for salmon, crab, and mariculture operations. Thankfully, no green crabs have yet been detected in Alaskan waters, but concerned Alaskans have been planning for the arrival of these voracious crustaceans. There are three simple steps you can take to help find, remove and report these crabs on your local beaches. Find it, Keep it, Freeze it!

Smithsonian Institution. Smithsonian Environmental Research Center. Marine Invasions Research Lab.

DOI. USGS. Wetland and Aquatic Research Center.

Provides distribution maps and collection information (State and County).
International Government

Fisheries and Oceans Canada.

New South Wales Department of Primary Industries (Australia).
State and Local Government

Washington Department of Fish and Wildlife.

Alaska Department of Fish and Game.
Academic

Columbia University. Center for Environmental Research and Conservation.
Professional

May 4, 2004

Prince William Sound Regional Citizens' Advisory Council.