Scientific Name
Carcinus maenas (Linnaeus, 1758) (ITIS)
Common Name
European green crab, shore crab, Joe rocker
Date of U.S. Introduction
Impact
Severely impacts native bivalve and crustacean populations through predation and competition (See and Feist 2010)
Current U.S. Distribution
North Atlantic coast; Pacific Coast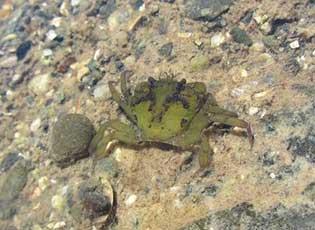 Videos
Google. YouTube; EarthFix Media.

Google. YouTube; Fisheries and Oceans Canada.
Selected Resources
The section below contains highly relevant resources for this species, organized by source.
Council or Task Force

Nova Scotia Invasive Species Council (Canada).

Washington State Recreation and Conservation Office. Washington Invasive Species Council.
Partnership
Federal Government

The green crab is considered one of the most invasive species in the marine environment. It has few predators, aggressively hunts and eats its prey, destroys seagrass, and outcompetes local species for food and habitat. Green crab could potentially damage Alaska's multi-billion dollar fisheries industries, especially for salmon, crab, and mariculture operations. There are three simple steps you can take to help find, remove and report these crabs on your local beaches. Find it, Keep it, Freeze it!

Smithsonian Institution. Smithsonian Environmental Research Center. Marine Invasions Research Lab.

DOI. USGS. Wetland and Aquatic Research Center.

Provides distribution maps and collection information (State and County).
International Government

Fisheries and Oceans Canada.

New South Wales Department of Primary Industries (Australia).
State and Local Government

Washington Department of Fish and Wildlife.

Alaska Department of Fish and Game.
Academic