Scientific Name
Eriocheir sinensis (ITIS)
Date of U.S. Introduction
Impact
Interference with fish salvage operations, fish passage facilities, water treatment plants, power plants, and other facilities (Cohen and Weinstein 2001)
Current U.S. Distribution
West Coast; Great Lakes; Chesapeake Bay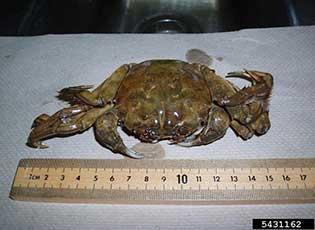 Spotlights
Jun 23, 2021

DOI. Fish and Wildlife Service.

U.S. Fish and Wildlife Service announced the completion of Operation Mitten Catcher, an international law enforcement investigation that prevented the illegal import of approximately 15,525 live Chinese mitten crabs into the U.S. Operation Mitten Catcher is the second national inspection operation initiated by the Service's Wildlife Inspection Interdiction Team. The team consists of seasoned Service law enforcement professionals who are committed to closing international wildlife trafficking pathways, generating intelligence and coordinating national wildlife inspection efforts.

If you suspect someone is illegally importing live mitten crabs or any other species, please call the Service's wildlife trafficking tips line at 1-844-FWS-TIPS (397-8477) or email fws_tips@fws.gov. You might be eligible for a financial reward if your tip helps solve a case. Learn more about how to report wildlife crimes.

2016

DOC. National Oceanic and Atmospheric Administration; New Hampshire Sea Grant; MIT Sea Grant; Maine Sea Grant.

The Rapid Response Plan for Management and Control of the Chinese Mitten Crab is intended to guide efforts to mitigate the further introduction and spread of the Chinese mitten crab in the northeastern United States and Canada. Due to the unique challenges of invasive species introductions to marine and coastal ecosystems, the mitten crab and other existing and potential marine invasive species are more difficult and often more costly to manage or control than freshwater aquatic or terrestrial invasive species. This document focuses on the use of early detection and rapid response as a tool to prevent the introduction and spread of Chinese mitten crabs and other crabs belonging to the genus Eriocheir throughout northeastern United States and Atlantic Canada. The primary goal of this plan is to provide information needed to support local, state, and regional efforts to prevent and control the spread of Chinese mitten crabs throughout northeastern United States and Atlantic Canada. For more information on the development of this plan, see Early Detection and Rapid Response Plan for the Invasive Chinese Mitten Crab.

Smithsonian Environmental Research Center.

Are you a crabber, waterman, or concerned citizen? We need your help to detect and assess the status of Chinese Mitten Crabs. The "Mitten Crab Watch" website provides information on the invasion of the mitten crab and allows users to more easily report catches.

Please help us detect live mitten crabs by reporting any sighting in North America. We are especially interested in collecting sightings from the Chesapeake Bay, Delaware Bay, Hudson River, and San Francisco Bay --- where the crab has been common in the past. Please visit the Mitten Crab Watch website to learn more about the crab and to report sightings.
Distribution / Maps / Survey Status
DOI. USGS. Wetland and Aquatic Research Center.

Provides detailed collection information as well as animated map.
Federally Regulated
DOI. FWS. Fish and Aquatic Conservation.

Includes species listed as injurious wildlife under the Federal Lacey Act (18 USC 42), which makes it illegal to import injurious wildlife into the U.S. or transport between the listed jurisdictions in the shipment clause (the continental U.S., the District of Columbia, Hawaii, the Commonwealth of Puerto Rico, and any possession of the U.S.) without a permit. An injurious wildlife listing would not prohibit intrastate transport or possession of that species within a State where those activities are not prohibited by the State. Preventing the introduction of new harmful species is the only way to fully avoid impacts of injurious species on local, regional, and national economies and infrastructure, and on the natural resources of the U.S.

Injurious wildlife are wild mammals, wild birds, amphibians, reptiles, fishes, crustaceans, mollusks and their offspring or eggs that are injurious to the interests of human beings, agriculture, horticulture, forestry, wildlife or wildlife resources of the U.S. Plants and organisms other than those stated above cannot be listed as injurious wildlife. For more information, see What Are Injurious Wildlife: A Summary of the Injurious Provisions of the Lacey Act and Summary of Species Currently Listed as Injurious Wildlife.
Videos
Google. YouTube; Great Britain Non-Native Species Secretariat.
Selected Resources
The section below contains highly relevant resources for this species, organized by source.
Council or Task Force

Washington State Recreation and Conservation Office. Washington Invasive Species Council.
Partnership
Federal Government

Smithsonian Institution. Smithsonian Environmental Research Center. Marine Invasions Research Lab.

DOI. USGS. Wetland and Aquatic Research Center.

Provides distribution maps and collection information (State and County).
International Government

Fisheries and Oceans Canada.

National Biodiversity Data Centre (Ireland).
State and Local Government

New York Department of Environmental Conservation.

California Department of Fish and Wildlife.

Oregon Department of Fish and Wildlife.
Academic
Professional