Scientific Name
Pomacea canaliculata (Lamarck, 1828) (ITIS)
Common Name
Channeled apple snail, golden apple snail
Date of U.S. Introduction
Impact
Damages rice and taro production by feeding on seedlings; competes with native apple snails and other species (Litsinger et al. 1993)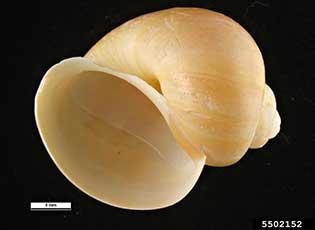 Distribution / Maps / Survey Status
DOI. USGS. Wetland and Aquatic Research Center.

Provides detailed collection information as well as animated map.
Selected Resources
The section below contains highly relevant resources for this species, organized by source.
Council or Task Force

Feb 2018

Alberta Invasive Species Council (Canada).

See also: Fact Sheets for more information about individual invasive species, including those listed as "Prohibited Noxious" and "Noxious" under the Alberta Weed Control Act
Partnership

Aug 2022

CAB International. Invasives Blog.

IUCN. Species Survival Commission. Invasive Species Specialist Group.

Ontario's Invading Species Awareness Program (Canada).

CABI. PlantwisePlus Knowledge Bank.
Federal Government

DOI. USGS. Wetland and Aquatic Research Center.

Provides distribution maps and collection information (State and County).
International Government

Pacific Pests, Pathogens, & Weeds - Coconut Rhinoceros Beetle
State and Local Government

California Department of Fish and Wildlife.

Florida Fish and Wildlife Conservation Commission.
Academic

University of Florida. Institute of Food and Agricultural Sciences Extension.

Electronic Data Information Source Publication #ENY323

Columbia University. Center for Environmental Research and Conservation.
Professional

International Rice Research Institute.