Scientific Name
Corbicula fluminea (O. F. Müller, 1774) (ITIS)
Date of U.S. Introduction
Current U.S. Distribution
Widespread throughout freshwater and some estuarine habitats in the U.S.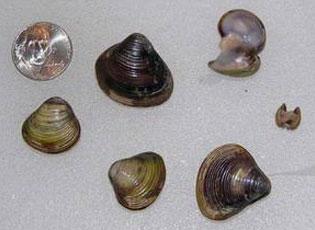 Spotlights
Apr 22, 2021

USDA. FS. Southern Research Station. CompassLive.

Native freshwater mussels grew more slowly when invasive Asian clams (Corbicula fluminea) were abundant. The study was led by Wendell Haag, a USDA Forest Service research fisheries biologist. It was published in the journal Freshwater Biology. Mussels live out of sight – buried in the river bottom, eating algae and other small particles of organic material. Mussels are filter feeders and key members of aquatic ecosystems. Unfortunately, mussels are disappearing worldwide, and about 70 percent of the 300 mussel species native to the U.S. are in danger of extinction. Addressing mussel declines is difficult because their causes are mostly unknown.

Nov 9, 2020

University of Minnesota Extension.

This past August, a new population of golden clams, Corbicula fluminea, was discovered by twelve-year-old budding conservationist, William Guthrie. The new infestation was found in Briggs Lake (Sherburne County). The discovery of golden clams in Briggs Lake is significant because it is an inland lake with no supplemental heat source. If the clams can survive our winter months, they could also spread and reproduce in additional lakes and rivers. Similar to zebra mussels, infestations of golden clams can clog water intake pipes and alter local ecosystems.
Distribution / Maps / Survey Status
DOI. USGS. Wetland and Aquatic Research Center.

Provides detailed collection information as well as animated map.
Videos
Google. YouTube; Vermont Agency of Natural Resources. Fish & Wildlife Department.
Selected Resources
The section below contains highly relevant resources for this species, organized by source.
Council or Task Force

Jan 2018

Alberta Invasive Species Council (Canada).

See also: Fact Sheets for more information about individual invasive species, including those listed as "Prohibited Noxious" and "Noxious" under the Alberta Weed Control Act
Partnership
Federal Government
State and Local Government
Academic

University of Wisconsin Sea Grant.

Paul Smith's College (New York). Adirondack Watershed Institute.
Professional

Lake George Association (New York).