Scientific Name
Petromyzon marinus (Linnaeus, 1758) (ITIS)
Date of U.S. Introduction
First discovered in Lake Ontario in 1835 (though whether or not it is native to Lake Ontario is disputed); first discovered in Lake Erie in 1921 (NAS Database)
Means of Introduction
Spread into the Great Lakes through the Welland Canal (NAS Database)
Current U.S. Distribution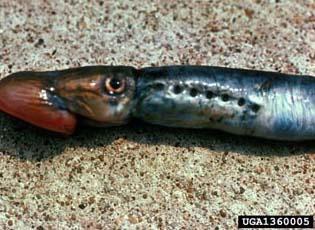 Spotlights
Nov 12, 2019

Great Lakes Fishery Commission.

The Great Lakes Fishery Commission today reported that populations of the invasive, parasitic sea lamprey remain at near-historic lows, below targets, in Lakes Michigan and Ontario, and above target, but holding steady, in Lakes Huron, Superior and Erie. Sea lamprey populations in Lake Huron are close to target levels and have been holding steady for the past five years. Abundances in Lakes Superior and Erie remain above target but have also decreased significantly since the near-record highs observed in 2017. Sea lampreys are the worst of the alien species to invade the Great Lakes. Before control, sea lampreys destroyed many times the human fish catch. Today, sea lamprey control is the foundation of the $7 billion Great Lakes fishery. The Commission and its partners are encouraged by the overall decrease in abundance of sea lampreys throughout the Great Lakes basin during 2019, but caution that environmental conditions, such as a prolonged spring and high precipitation events, contributed to the decrease.
Distribution / Maps / Survey Status
DOI. USGS. Wetland and Aquatic Research Center.

Provides detailed collection information as well as animated map.
Videos
Google. YouTube; Voice of America.

Google. YouTube; Wisconsin First Detector Network.
Selected Resources
The section below contains highly relevant resources for this species, organized by source.
Partnership
Federal Government

DOI. USGS. Wetland and Aquatic Research Center.

Provides distribution maps and collection information (State and County).

DOI. Fish and Wildlife Service.
State and Local Government
Academic
Professional

Invasive Species Centre (Ontario).

Great Lakes Fishery Commission.