Scientific Name
Pterois volitans (Linnaeus) (ITIS)
Common Name
Lionfish, lion fish, zebrafish, firefish, turkeyfish, red lionfish, butterfly cod, ornate butterfly-cod, peacock lionfish, red firefish, scorpion volitans
Date of U.S. Introduction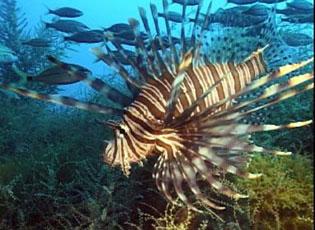 Distribution / Maps / Survey Status
DOI. USGS. Wetland and Aquatic Research Center.

Provides detailed collection information as well as animated map.
Videos
Google. YouTube; National Geographic.

Google. YouTube; VICE News.
Selected Resources
The section below contains highly relevant resources for this species, organized by source.
Council or Task Force

Bermuda Lionfish Task Force.
Partnership
Federal Government
State and Local Government

Texas Parks and Wildlife Department.

Florida Fish and Wildlife Conservation Commission.

South Carolina Department of Natural Resources. Saltwater Recreational Fishing License Program.
Academic
Professional

Reef Environmental Education Foundation.