Scientific Name
Ctenopharyngodon idella (Valenciennes in Cuvier and Valenciennes, 1844) (ITIS)
Date of U.S. Introduction
Means of Introduction
Imported for aquaculture and for phytoplankton control (NAS Database)
Impact
Direct and indirect impacts via: competition for food; significant changes in the composition of macrophyte, phytoplankton, and invertebrate communities; interference with the reproduction of other fishes; decreases in refugia for other fishes; modification of preferred habitat; predation or competition when plant food is scarce. Has significantly altered the food web and trophic structure of aquatic systems by inducing changes in plant, invertebrate, and fish communities (NAS Database)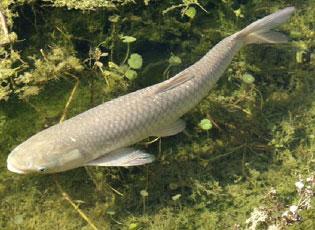 Spotlights
Mar 2022

DOI. USGS. Publications Warehouse.

The U.S. Geological Survey provides natural-resource managers with scientific information, risk assessment, and tools that can help to improve surveillance, prevention, and control strategies for managing invasive carp.
Fact Sheet 2022–3012

Oct 22, 2021

Minnesota Department of Natural Resources.

Beginning Monday, Oct. 25, the Minnesota Department of Natural Resources will lead a second intensive invasive carp removal effort in Pool 8 of the Mississippi River near La Crosse, Wis. Thirty-four silver carp were captured in Pool 8 during the first interagency carp removal operation in April. The innovative Modified Unified Method (MUM) combines netting and herding techniques to drive and concentrate invasive carp from a large area of water into a small zone for removal. The DNR is conducting this work in partnership with the Wisconsin Department of Natural Resources, the U.S. Geological Survey (USGS) and the U.S. Fish and Wildlife Service.

Anglers are reminded that invasive carp captures must be reported to the DNR immediately. Call 651-587-2781 or email invasivecarp.dnr@state.mn.us. Take a photo and transport the carp to the nearest DNR fisheries office or arrange for it to be picked up by a DNR official.

Mar 13, 2019

Grass carp, one of four species of Asian carp, has the potential to disrupt the Great Lakes ecosystem and economy unless their spread is stopped, according to a report released by Fisheries and Oceans Canada with support from the Great Lakes Fishery Commission and the Ontario Ministry of Natural Resources and Forestry. The socio-economic study concludes that, in addition to the significant ecological threat that is posed by the presence of grass carp in the Great Lakes, there would also be economic, social and cultural ripple effects. The full report can be viewed here (PDF | 1.34 MB).
Distribution / Maps / Survey Status
DOI. USGS. Wetland and Aquatic Research Center.

Provides detailed collection information as well as animated map.
Federally Regulated
DOI. FWS. Fish and Aquatic Conservation.

Includes species listed as injurious wildlife under the Federal Lacey Act (18 USC 42), which makes it illegal to import injurious wildlife into the U.S. or transport between the listed jurisdictions in the shipment clause (the continental U.S., the District of Columbia, Hawaii, the Commonwealth of Puerto Rico, and any possession of the U.S.) without a permit. An injurious wildlife listing would not prohibit intrastate transport or possession of that species within a State where those activities are not prohibited by the State. Preventing the introduction of new harmful species is the only way to fully avoid impacts of injurious species on local, regional, and national economies and infrastructure, and on the natural resources of the U.S.

Injurious wildlife are wild mammals, wild birds, amphibians, reptiles, fishes, crustaceans, mollusks and their offspring or eggs that are injurious to the interests of human beings, agriculture, horticulture, forestry, wildlife or wildlife resources of the U.S. Plants and organisms other than those stated above cannot be listed as injurious wildlife. For more information, see What Are Injurious Wildlife: A Summary of the Injurious Provisions of the Lacey Act and Summary of Species Currently Listed as Injurious Wildlife.
Videos
Jan 2019

Google. YouTube. PBS NewsHour.

Invasive Carp Regional Coordinating Committee.

Google. YouTube; Fisheries and Oceans Canada.
Selected Resources
The section below contains highly relevant resources for this species, organized by source.
Council or Task Force

Washington State Recreation and Conservation Office. Washington Invasive Species Council.
Partnership
Federal Government
International Government

Fisheries and Oceans Canada.
State and Local Government
Academic
Professional

Great Lakes Fishery Commission. Fisheries Management.

Tip of the Mitt Watershed Council (Michigan).