Scientific Name
Gymnocephalus cernuus (Linnaeus, 1758) (ITIS)
Synonym
Acerina cernua (Linnaeus, 1758), Acerina czekanowskii (Dybowski, 1874), Acerina fischeri (Eichwald, 1873), Acerina vulgaris (Cuvier in Cuvier and Valenciennes, 1829), Perca cernua (Linnaeus, 1758) (ITIS)
Date of U.S. Introduction
Current U.S. Distribution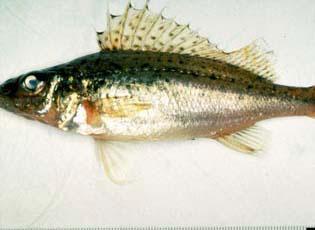 Distribution / Maps / Survey Status
DOI. USGS. Wetland and Aquatic Research Center.

Provides detailed collection information as well as animated map.
Selected Resources
The section below contains highly relevant resources for this species, organized by source.
Council or Task Force

Feb 2018

Alberta Invasive Species Council (Canada).

See also: Fact Sheets for more information about individual invasive species, including those listed as "Prohibited Noxious" and "Noxious" under the Alberta Weed Control Act
Partnership

IUCN. Species Survival Commission. Invasive Species Specialist Group.

Ontario's Invading Species Awareness Program (Canada).
Federal Government

DOI. USGS. Wetland and Aquatic Research Center.

Provides distribution maps and collection information (State and County).
State and Local Government

Michigan.gov. Michigan Invasive Species.

Minnesota Department of Natural Resources.
Academic

Columbia University. Center for Environmental Research and Conservation.

University of Wisconsin Sea Grant.
Professional

Tip of the Mitt Watershed Council (Michigan).
Citations
Integrated Taxonomic Information System. Gymnocephalus cernuus. [Accessed Sep 10, 2014].

Nonindigenous Aquatic Species Database. Fact Sheet - Ruffe. USGS, Gainesville, FL. [Accessed Sep 16, 2014].