Scientific Name
Lithobates catesbeianus (formerly known as Rana catesbeiana) (ITIS)
Date of U.S. Introduction
Means of Introduction
Most introductions have been associated with escapes from aquaculture operations. Other pathways include bait used for recreational fishing and escapes or releases through the pet trade, landscape ponds, research, and teaching (Adams and Pearl 2007).
Current U.S. Distribution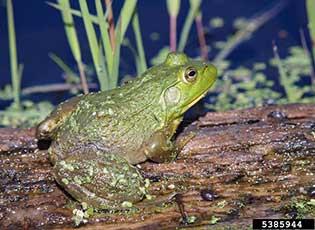 Spotlights
Jul 29, 2022

Scientists tallying the economic damage wrought by invasive pests across the world found two species are responsible for more harm than any other.

The American bullfrog and brown tree snake have collectively caused $16.3bn in global damage since 1986. In addition to ecological harm, the invasive pair have ruined farm crops and triggered costly power outages.
Distribution / Maps / Survey Status
DOI. USGS. Wetland and Aquatic Research Center.

Provides detailed collection information as well as animated map.
Videos
Google. YouTube; Wyoming Game and Fish Department.
Selected Resources
The section below contains highly relevant resources for this species, organized by source.
Council or Task Force

Oregon Invasive Species Council.

Washington State Recreation and Conservation Office. Washington Invasive Species Council.
Partnership

IUCN. Species Survival Commission. Invasive Species Specialist Group.

Great Britain Non-Native Species Secretariat.
Federal Government

DOI. USGS. Wetland and Aquatic Research Center.

Provides distribution maps and collection information (State and County).
International Government

British Columbia Ministry of Environment (Canada).
State and Local Government

California Department of Fish and Wildlife.

Oregon Department of Fish and Wildlife.
Academic