Identification
Identification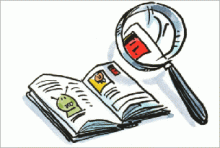 Provides information and resources to help you identify unknown species that may be invasive. Species identification is important in helping gardeners, land managers, and landscape architects identify invasive species that can be harmful to local habitats. Concerned citizens are often the first line of defense in reporting signs and the spread of invasive species. Awareness and education are extremely important as prevention is key to combating invasive species.
An important caveat is it can be difficult to identify species properly on the Internet. If you are unable to identify the species in question, you may want to contact your county office in the Cooperative Extension System (see Land Grant University Website Directory - Extension) and work with Extension personnel to obtain assistance from an area agent or state specialist (select state to see state pest detection contacts). Or, you may want to use the Ask Extension feature of eXtension - Invasive Species.
See related information: Smartphone Applications and how to Report Invasive Species
---
Selected Resources
The section below contains highly relevant resources for this subject, organized by source.
Partnership
Federal Government

USDA. Animal and Plant Health Inspection Service.

APHIS created the webpage to make it easier for its customers to find critical information on pests and diseases of concern. With this tool, members of the public will have the information they need to report pests and diseases and together we can protect America's agriculture and natural resources. This page lists all pest and disease programs managed by APHISas part of its mission to protect American agriculture and natural resources. Users can search by type (plant, animal), keyword (avian, fruit fly, cotton), or by the specific pest or disease (coconut rhinoceros beetle, brucellosis). You can also scroll through the page, which lists the pests and diseases alphabetically and includes a corresponding image.

USDA. Animal and Plant Health Inspection Service.

Now you can bring along robust identification tools from the U.S. Department of Agriculture's Animal and Plant Health Inspection Service Identification Technology Program (ITP) for the information you need to support accurate field screening and identification. These apps put professional-level identification keys in your pocket. When invasive pests may be on the move, it helps to have trusted information at hand.
Academic

2021

University of Minnesota. Minnesota Aquatic Invasive Species Research Center.

This ID book contains tips for identifying a number of aquatic invasive species (AIS) that are considered high-risk to Minnesota waters, as well as some common native lookalike species. The 3rd Edition of the guide was released in 2021and includes information for aquatic and wetland plants, invertebrates, and fish. The ID book can be accessed by downloading a printable version, or you can purchase it through the University of Minnesota Bookstore, or you will receive a copy if you become an AIS Detector.

University of California. Statewide Integrated Pest Management Program.

The UC IPM Weed Photo Gallery includes many, but not all, weed species commonly found in California farms and landscapes.

University of Florida. IFAS Extension. Solutions for Your Life.

Many Florida residents find unknown plants growing in their yard, unknown bugs in their houses or gardens, and apparent diseases on what were previously healthy plants. But Florida residents may not know what resources are available to identify these disease, plant, and pest organisms.
Professional

Mar 10, 2022

North America Invasive Species Management Association.

Different invasive ivy species may have different habitat preferences and kill techniques. Learn how to identify among different species — then report them to EDDMapS so researchers can access data!

Oregon State University. National Pesticide Information Center (NPIC).

Whether your pest is a weed, insect, animal, microbe, or another organism, correct identification of your pest makes controlling it easier and often more effective.
Commercial

Corteva Agriscience. TechLine Invasive Plant News.

Distinguishing between non-native and native buckthorn is important so that management efforts can be targeted appropriately. This article desribes and separates the two invasive buckthorns from native alderleaf buckthorn.