Identification
Identification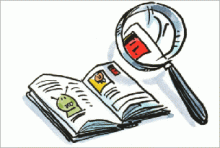 Provides information and resources to help you identify unknown species that may be invasive. Species identification is important in helping gardeners, land managers, and landscape architects identify invasive species that can be harmful to local habitats. Concerned citizens are often the first line of defense in reporting signs and the spread of invasive species. Awareness and education are extremely important as prevention is key to combating invasive species.
An important caveat is it can be difficult to identify species properly on the Internet. If you are unable to identify the species in question, you may want to contact your county office in the Cooperative Extension System (see Land Grant University Website Directory - Extension) and work with Extension personnel to obtain assistance from an area agent or state specialist (select state to see state pest detection contacts). Or, you may want to use the Ask Extension feature of eXtension - Invasive Species.
See related information: Smartphone Applications and how to Report Invasive Species
---
Spotlights
University of Georgia. Center for Invasive Species and Ecosystem Health.

Center staff design and publish comprehensive mobile applications that engage users with invasive species, forest health, natural resource and agricultural management. Previous apps were designed for specific areas of the U.S. Two new apps were recently developed for reporting throughout the U.S.:

EDDMapS app  - the Early Detection and Distribution Mapping System app will allow invasive species reports to be submitted from a smartphone while outdoors. Anyone can report an invasive species sighting, submit photos, provide sighting details, and document a negative survey. In addition to its reporting function, the app contains information on the top invasive species including common names, scientific names, general descriptions, habitats, and reference photos to aid with identification.
EDDMapS Pro app - designed for professionals; includes the ability to download offline map data if users are going to be in areas where internet coverage may not be available.

California Academy of Sciences; National Geographic Society.

iNaturalist helps you identify the plants and animals around you. Get connected with a community of over 750,000 scientists and naturalists who can help you learn more about nature! By recording and sharing your observations, you'll create research quality data for scientists working to better understand and protect nature. Experience and record nature with species identification technology by downloading the iNaturalist app (Android and iPhone) --  See Getting started:

Find Wildlife - it can be any plant, animal, fungi, slime mold or evidence of life found in the wild
Take Pictures - be sure to notice the location
Share Observations - upload your findings to iNaturalist
 

Seek by iNaturalist is an educational tool and provides a kid-friendly alternative. Seek allows you to identify plants and animals from your photos by harnessing image recognition technology, drawing from existing data collected from observations on iNaturalist (no registration is required, and no user data is collected).

Aquatic Nuisance Species Task Force.

This database was designed to direct users to invasive species experts. The public portion of the database will guide you to a state contact who acts as a filter for information and identifications.
Selected Resources
The section below contains highly relevant resources for this subject, organized by source.
Partnership
Federal Government

USDA. Animal and Plant Health Inspection Service.

APHIS created the webpage to make it easier for its customers to find critical information on pests and diseases of concern. With this tool, members of the public will have the information they need to report pests and diseases and together we can protect America's agriculture and natural resources. This page lists all pest and disease programs managed by APHISas part of its mission to protect American agriculture and natural resources. Users can search by type (plant, animal), keyword (avian, fruit fly, cotton), or by the specific pest or disease (coconut rhinoceros beetle, brucellosis). You can also scroll through the page, which lists the pests and diseases alphabetically and includes a corresponding image.

USDA. Animal and Plant Health Inspection Service.

Now you can bring along robust identification tools from the U.S. Department of Agriculture's Animal and Plant Health Inspection Service Identification Technology Program (ITP) for the information you need to support accurate field screening and identification. These apps put professional-level identification keys in your pocket. When invasive pests may be on the move, it helps to have trusted information at hand.
State and Local Government

Washington State Noxious Weed Control Board.

Provides help in identifying an unknown weed or plant. The database includes over 140 noxious weeds that are known to Washington State.
Academic
Professional

Mar 10, 2022

North America Invasive Species Management Association.

Different invasive ivy species may have different habitat preferences and kill techniques. Learn how to identify among different species — then report them to EDDMapS so researchers can access data!

Oregon State University. National Pesticide Information Center (NPIC).

Whether your pest is a weed, insect, animal, microbe, or another organism, correct identification of your pest makes controlling it easier and often more effective.
Commercial

Corteva Agriscience. TechLine Invasive Plant News.

Distinguishing between non-native and native buckthorn is important so that management efforts can be targeted appropriately. This article desribes and separates the two invasive buckthorns from native alderleaf buckthorn.