Prevention
Prevention
Provides general resources for invasive species prevention. Awareness and education are extremely important as prevention is key to combating invasive species.
See related information: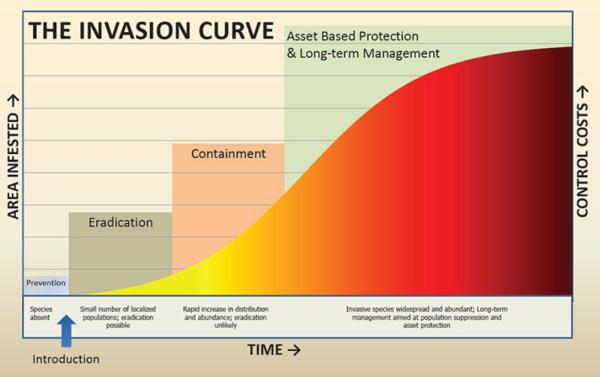 Selected Resources
The section below contains highly relevant resources for this subject, organized by source.
Council or Task Force
Partnership
Federal Government
International Government

New South Wales Department of Primary Industries (Australia).

The departments of agriculture and primary industries across Australia have proudly partnered with Costa Georgiadis of Gardening Australia to develop a suite of interactive and digital resources which showcase the importance of biosecurity across Australia. Join us on Mission: Biosecurity. As you Watch, Play & Listen, you'll discover what Biosecurity is, how it can impact our way of life and how we can all help protect our environment, community and economy from biosecurity baddies. ​ Biosecurity – Be a part of it!
State and Local Government
Academic

Jul 2022

University of Florida. Institute of Food and Agricultural Sciences Extension.

Learn how to prevent introductions. This publication is written for the general public and describes why invasive species are an important issue in Florida and how nonnative species become invasive by moving through five stages of human-aided biological invasion (1) transport, (2) introduction, (3) establishment, (4) spread, and (5) negative impacts. The article also connects these stages to examples in Florida.
Electronic Data Information Source Publication #SS-AGR-464

Michigan State University.

Montana State University. Extension Service.

Working to reduce health and environmental risks from pest management, as well as improve practices, and increase Integrated Pest Management (IPM) adoption. Our focus areas involve tactics and tools for plant protection, enhancing agricultural biosecurity, and IPM for sustainable communities.  The program encompasses four areas; agronomic crops, communities, pest diagnostic facilities, and pesticide education.  The overall goal of the Integrated Pest Management program is to develop and deliver information on IPM practices in Montana.
Professional
Commercial

2022

The first section of the book includes information about how tourism-related infrastructure and activities promote biological invasions, including key pathways for non-native invasive species introductions. This section provides case studies of different organisms that are known to be introduced and/or promoted by tourism in different ecosystems or regions. The second section elaborates on known and potential impacts of invasive species on tourism and recreation, including how they may affect, positively or negatively, the economic revenue from tourism, tourist access, recreation, aesthetic values and tourists' perceptions. The last section focuses on management and policy, covering aspects of how visitors perceive invasive species and their willingness to manage them, biosecurity measures to prevent invasion related to tourism, as well as potential policy options moving forward. The book draws on a number of examples across multiple taxa, landscapes and regions of the world.

Citation: Barros, A., Shackleton, R., Rew, L. J., Pizarro, C., Pauchard, A. (Eds.). (2022). Tourism, Recreation and Biological Invasions. CABI.