Students
Students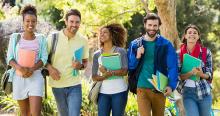 Provides selected resources for Students from agencies and organizations with an interest in the prevention, control, or eradication of invasive species.
See also:
Spotlights
USDA. Animal and Plant Health Inspection Service.

You can play a role in protecting our nation's crops, forests, parks and trees from hungry pests! Enjoy these games and activities as you learn more about invasive species, and ways you can help stop their spread.
Selected Resources
The section below contains highly relevant resources for this subject, organized by source.
Council or Task Force

Invasive Species Council of British Columbia.

Invasive species are a real threat to British Columbia's amazing natural environment. With the right education about invasive species early on, we can hope our youth will hit the ground running. These fun games, video and activities for kids help break down the issues around invasive species and their impacts.
Partnership
International Government

New South Wales Department of Primary Industries (Australia).

The departments of agriculture and primary industries across Australia have proudly partnered with Costa Georgiadis of Gardening Australia to develop a suite of interactive and digital resources which showcase the importance of biosecurity across Australia. Join us on Mission: Biosecurity. As you Watch, Play & Listen, you'll discover what Biosecurity is, how it can impact our way of life and how we can all help protect our environment, community and economy from biosecurity baddies. ​ Biosecurity – Be a part of it!
State and Local Government

Texas Parks and Wildlife Department.

New York State Department of Environmental Conservation.

Wisconsin Department of Natural Resources.