Monitoring
Monitoring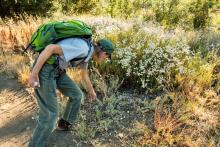 Provides selected Monitoring resources from agencies and organizations with an interest in the prevention, control, or eradication of invasive species. Monitoring is an important part of controlling invasive species. Monitoring can identify new populations of invasive species while they are still small.
Selected Resources
The section below contains highly relevant resources for this subject, organized by source.
Partnership
Federal Government
Academic

Feb 8, 2012

The Early Detection and Distribution Mapping System (EDDMapS) is a Web-based mapping system for documenting invasive species distribution. The majority of invasive species reporting in the U.S. occurs through or in cooperation with EDDMapS.

2006

Montana State University. Center for Invasive Species Management.

University of Wisconsin. Extension Lakes Program. Citizen Lake Monitoring Network.
Professional

2012

Aquatic Ecosystem Restoration Foundation.

North American Invasive Species Management Association.

NAISMA's minimum mapping standards for invasive weeds addressed the minimum base information necessary to compare and combine invasive weed maps across tribal, county, state/provincial, national, and even international borders.

Invasive Species Centre (Ontario).

See also:  eDNA for more information