Colony Collapse Disorder and Pollinator Health
Colony Collapse Disorder and Pollinator Health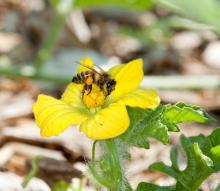 Colony Collapse Disorder (CCD) is the sudden die-off of honey bee colonies. Pollination is vital to our survival and the existence of nearly all ecosystems on earth. One-third of our diet comes from insect-pollinated plants, and the honeybee is responsible for 80% of that pollination. CCD threatens not only pollination and honey production but, much more, this crisis threatens to wipe out the production of crops dependent on bees for pollination. 
Pollinators contribute more than $24 billion to the U.S. economy, with $15 billion coming from honeybees alone. Considering this dependency, reduced honeybee and pollinator populations pose a serious risk to domestic agriculture, ecological health, and the U.S. economy. 
There have been many theories about the cause of CCD, but the researchers who are leading the effort to find out why are now focused on various factors (Source: Environmental Protection Agency - Colony Collapse Disorder):
Increased losses due to the invasive varroa mite (a pest of honey bees)
New or emerging diseases such as Israeli Acute Paralysis virus and the gut parasite Nosema
Pesticide poisoning through exposure to pesticides applied to crops or for in-hive insect or mite control
Stress bees experience due to management practices such as transportation to multiple locations across the country for providing pollination services
Changes to the habitat where bees forage
Inadequate forage/poor nutrition
Potential immune-suppressing stress on bees caused by one or a combination of factors identified above
See below which provides selected resources for CCD from agencies and organizations with an interest in the prevention, control, or eradication of invasive species.
---
Selected Resources
The section below contains highly relevant resources for this subject, organized by source.
Partnership

National Pollinator Week (June 19-25, 2023) is a time to celebrate pollinators and spread the word about what you can do to protect them. In 2007, the U.S. Senate's unanimous approval and designation of a week in June as "National Pollinator Week" marked a necessary step toward addressing the urgent issue of declining pollinator populations. Pollinator Week has now grown into an international celebration of the valuable ecosystem services provided by bees, birds, butterflies, bats and beetles.

US National Native Bee Monitoring Network.

There are more than 4,000 native bee species in the United States, with many species yet to be described. These native bees pollinate our native plants and agricultural crops, add beauty to our world, and are deserving of protection. The US National Native Bee Monitoring Research Coordination Network (RCN) is a USDA-funded effort to coordinate and support efforts to monitor native bee populations in the US, with the broader goal of conserving our nation's native bee fauna.

From 2020-2023, native bee biologists from across the US will work together to develop a national plan for native bee monitoring. The plan will include components such as monitoring protocols and the designation of priority areas for monitoring. The RCN will also develop new educational and training opportunities in areas that are fundamental to native bee monitoring.

See also: How You Can Help Count and Conserve Native Bees (New York Times, Dec 9, 2020)
Federal Government
Professional

National Conference of State Legislatures.

National Conference of State Legislatures (NCSL) tracks environment and natural resources legislation to bring you up-to-date, real-time information on bills (from 2015) that have been introduced in the 50 states and the District of Columbia, and U.S. territories. Database provides search options by state (or territory), topic, keyword, year, status or primary sponsor. Topics include: Wildlife-Invasive Species and Wildlife-Pollinators.

National Conference of State Legislatures.

Includes a summary of federal and state actions (including state pollinator laws).

National Wildlife Federation.

Over 100,000 invertebrates—including bees, butterflies, beetles, moths, wasps, and flies—and more than a thousand mammals, birds, reptiles, and amphibians take on the job of pollinating plants. Pollinators worldwide are in decline, losing numbers to threats like pesticide poisoning, habitat loss, and disease. The loss of bee populations in particular poses a big risk to both our agricultural system and the ecosystem that supports other wildlife.