Climate Change
Climate Change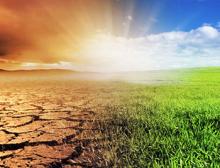 "Invasive alien species (IAS) and climate change, with land use change and changes in the nitrogen and carbon cycles, are identified as the top four drivers of global biodiversity loss. Their relative importance depends on the ecoregion being considered. Biodiversity loss is accelerating because of the globalization of trade and increased international tourism.
Climate change can facilitate IAS as:
new species, that may become invasive, will be entering regions due to climate change,
species hierarchies in ecosystems will change, leading to new dominants that may have invasive tendencies, and
climate induced stress in an ecosystem will facilitate invasive pathways." (Source: CABI 2010)
---
Selected Resources
The section below contains highly relevant resources for this subject, organized by source.
Council or Task Force

Dec 2014

National Invasive Species Council.

Prepared by: The Ad Hoc Working Group on Invasive Species and Climate Change.
Prepared for: The Aquatic Nuisance Species Task Force (ANSTF) and The National Invasive Species Council (NISC).
This report is the result of more than 2 years of hard work by federal and non-federal experts.

This report is targeted at a broad audience of people interested in invasive species, climate change and natural resource management. It is structured to first provide a brief overview of the connections between invasive species and climate change before looking specifically at how these communities approach conservation and natural resource management.

This document addresses the broader framework of invasive species management and climate change adaptation as tools to enhance and protect ecosystems and their natural resources in the face of these drivers of change. The review of tools and methods will be of interest to managers working at specific sites and to individuals making strategic decisions at larger geographic scales. Policy-makers and government agencies at the local, state and national levels may be interested in the issues related to institutional coordination and recommendations, while the scientific and research community may focus on the application of assessment tools. Finally, the public as a whole may benefit from the overall focus on how the drivers of climate change and invasive species intersect and the potential ramifications these will have on the natural world.
See also: NISC Other Publications for more resources.

Dec 2010

National Invasive Species Council.

Approved by ISAC Dec 9, 2010.
See also: ISAC Products (includes additional White Papers)

Australian Invasive Species Council.
Partnership
Federal Government
International Government

May 2008

Australian Government. Department of Climate Change, Energy, the Environment and Water.

On 20 November 2006 the Biological Diversity Advisory Committee (BDAC), whose role it was to advise the then Australian Government Minister for the Environment and Heritage, held a one day workshop in Canberra on climate change and invasive species' impacts on biodiversity. The various sections in this report are based upon topics discussed on the day, but they incorporate many additional findings drawn from recent research.

Commonwealth Scientific and Industrial Research Organisation (Australia). AdaptNRM.
State and Local Government

Mar 1, 2019

Pennsylvania Department of Conservation and Natural Resources. Good Natured Blog.

"How climate changes will impact invasive species could vary depending on the region, the species affected, and the particular impacts being felt, but most invasives do well in a changing climate. We are already seeing some influences of climate change in Pennsylvania."
Academic
Professional

Invasive Species Centre (Ontario).